Asian Style Peanut & Sprout Salad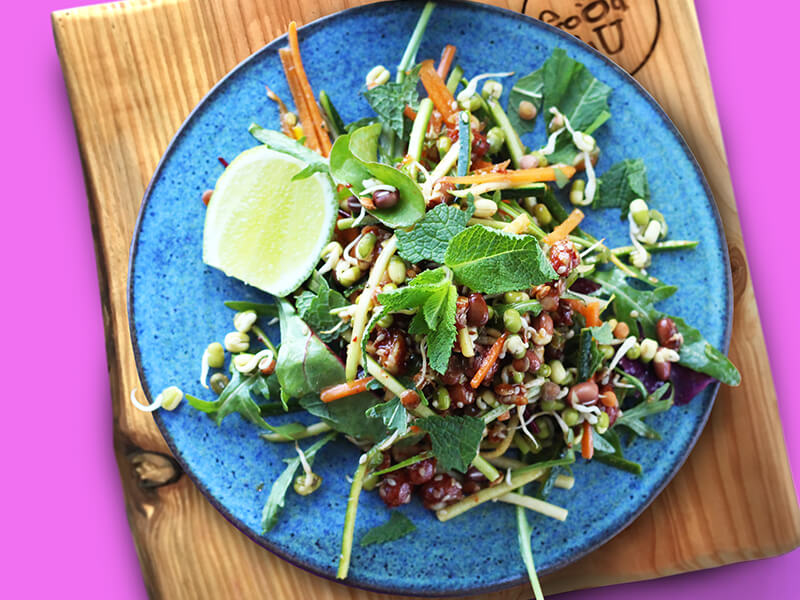 Salad Ingredients
2 Large carrots cut into long thin strips
2 Courgettes cut into long thin strips
200g Mixed baby leaf salad
1 Large bunch of basil
1 Long red chilli (optional)
4 Lime wedges
Spiced Peanut Dressing Ingredients (or look out for spiced peanuts in chilli oil in your local Asian store)
300 g Unsalted peanuts
6 tbsp Sunflower oil
1 tbsp Chopped garlic
2 tbsp Sesame seeds
2 tbsp Dried chilli flakes
2 tbsp Soy sauce
2 tbsp Honey
Method
In a large pot heat, the oil until just about to smoke, toss in the garlic stir quickly it will go a toasty brown colour. Then, switch off the heat.
Add in the rest of the ingredients into the warm garlicky oil and stir well. Let the dressing rest, cool and flavours marry and drain off any excess liquid
Grab a big bowl and add all the Asian style salad dressing ingredients together to make a salty sweet and sour aromatic dressing
Toss in the sliced carrots, courgette, baby leaf salad and half the sprouts
Add in the spicy peanut dressing and toss it all around to mix
Plate up keeping it piled high and finish with scattered sprouted lentils, chopped mint and basil leaves, sliced red chilli (optional) and a lime wedge.
Tuck in! On a hot summers day with an ice cold ginger beer!