Moroccan inspired Roast Veg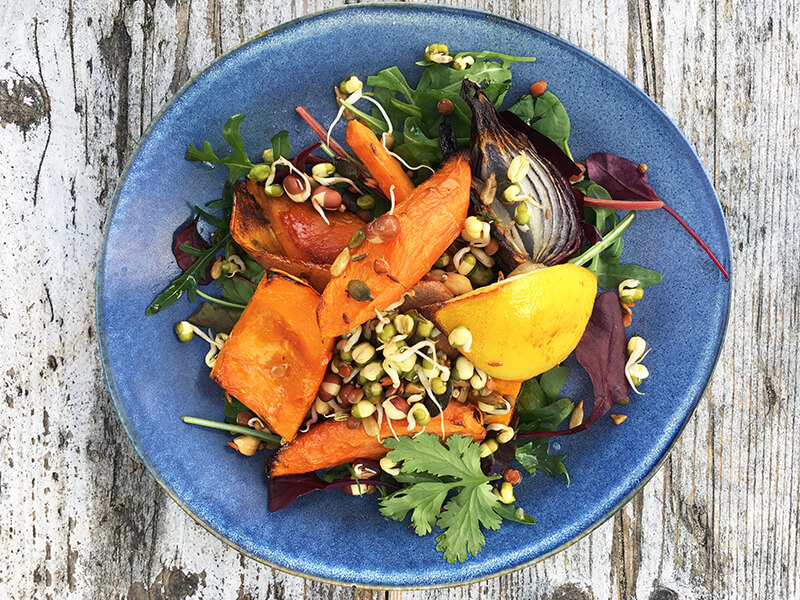 Cooked Ingredients
4 Carrots sliced into large shards/wedges
2 Sweet potatoes sliced into wedges
1 Medium butternut squash peeled and sliced into large chunks
3 Red onions skin on and root head on, sliced into quarters (for decorative appeal)
1 Lemon sliced into wedges
200 ml Olive oil
1 tbsp Whole cumin seeds
1 Cinnamon stick
2 Whole star anise
1 tbsp Fennel or caraway seed (optional)
2 tbsp Honey
1 pinch Salt
1 pinch Pepper
Spiced Seeds Ingredients
1 bag Good4U Super Seeds Salad Topper 
1 tbsp Whole cumin
1 tbsp Whole coriander seeds
1 tsp Ground cumin
1 tsp Sea salt flake
1 tsp Chilli flakes
Salad Ingredients
1 Small bag of mixed baby leaf salad of your choice
1 Good4U Lentil Sprout Mix Salad Topper
4 tbsp Olive oil
1 Lemon zest and juice
Roast Veg
Method
Pre heat your oven to 200 C/ 375 F
Grab a large roasting tin, toss all the ingredients together, finish with a good drizzle of honey
Place into the hot oven and roast until golden brown and soft to the touch around 30 to 45 minutes. Once cooled remove the cinnamon star anise and lemon wedges from your mix.
Spiced Seeds - Start by toasting the whole cumin seeds, whole coriander seeds and chilli flakes in a hot dry pan for about a minute or two keep stirring continuously and add Good4U Super Seeds Salad Topper until warmed through and finish with the ground cumin and sea salt. Set aside to cool or serve warm
Salad - Grab a bowl and mix the spiced seeds into the roasted vegetables. (save a few to sprinkle on top for decoration)
Place the roasted vegetable mix on top of green baby leaves.
Sprinkle with lots of Good4U Lentil Sprout Mix, a drizzle of olive oil and a good squeeze of fresh lemon juice.